December 4,2015 was one of the best nights my Princesses ever experienced in their life, according to them. We attended a Pajama Party that night and we did not expect that Santa would be joining us later that night. Princess M was the first one to see Santa appeared in the door and oh man, she was just mesmerized by him and stayed with Santa's side and on his lap the entire time he was there.
Both adults and children had a really great time. Of course, it's so fun to be around with other Filipinas and some whites and share the feast together that the host was serving. The party wasn't only for adults. I admired how the hosts came up with an idea of crafts for the kids as well.
At first Princess J felt bored and she literally expressed that to me but then as the night went on, she learned to appreciate and joined the kids' activities they had for the children. I will not forget our first Pajama Party ever! It was the best party for the entire family. Everybody had fun and enjoyed the night!
… Kids were attentive and listening to the story closely which was heaven for me… it's not everyday we gather like this, be quiet and just listen.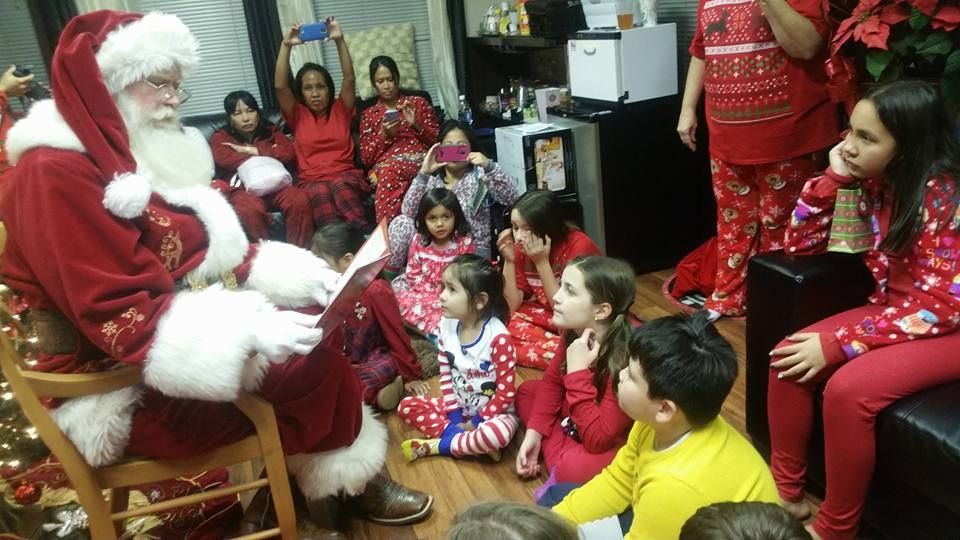 … the kids in the craft room making a "scentsy" made with orange and cloves. They do it by poking holes into the orange and insert the cloves into it, the orange then slowly releases its juice mixed with the smell of the cloves that makes an amazing natural room freshener.